Flagship Conference 2021 – Online
04/05/2021 @ 8 h 00 min

-

05/05/2021 @ 17 h 00 min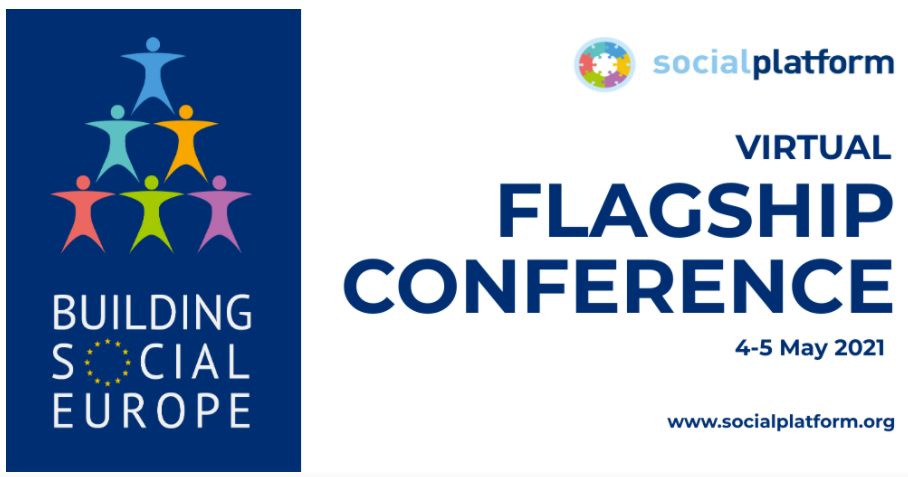 The 2021 Flagship Conference will take place in collaboration with the Portuguese Government in the framework of the Portuguese Presidency of the Council of the European Union – ahead of the EU Social Summit taking place on 7 May in Porto (Portugal). The Flagship Conference will serve as an opportunity to develop key recommendations to Heads of State and Government and EU decision-makers present at the Social Summit.
The COVID-19 pandemic has had and will continue to have a devastating impact on all areas of peoples' lives, which will take years to overcome. Moreover, people in the most vulnerable situations have suffered disproportionately as a result of COVID-19 and the measures taken to contain the pandemic. The pandemic has truly exposed the fragility of our socio-economic governance systems and how they must be more resilient to protect the most vulnerable in our societies. It has exacerbated the inequalities and disparities that people across Europe are experiencing in many areas of life, such as education, training and employment; social protection; access to services including health care, long-term care and social services.
The Conference will focus on the different ways that the European Union should lead its recovery process and reinforce the social dimension that must be at the heart of any solution to build a socially just and inclusive society for all, which is resilient to future crises.
Aim:
The Flagship Conference is the annual forum of civil society organisations advocating for social justice and participatory democracy, together with representatives of EU institutions, EU Member States and other stakeholders. It aims at:
identifying the challenges of the current EU's socio-economic governance models, advocating for better coordination between economic and social policies, and for structured and meaningful civil dialogue;

developing alternative models and solutions, which are more democratic, people-centred and leave no-one behind;

building synergies and developing strategies between governmental and non-governmental actors to achieve a European Union based on social justice and participatory democracy.
Target audiences:
The Flagship Conference aims to reach out to European and national decision-makers, Social Platform members and their national networks, social partners, academics and other interested stakeholders.
Theme/focus:
The European Pillar of Social Rights (Social Pillar) was launched by the European Commission in 2017. It delivers new and improves existing social rights across the EU, and serves as the EU's compass to achieve better working and living conditions for all. In 2021, the European Commission will launch its Action Plan on the implementation of the Social Pillar. Social Platform and its membership have been advocating for the comprehensive and ambitious implementation of the Social Pillar. Our 2021 Flagship Conference will focus on the role of the Action Plan in supporting Europe's social recovery.