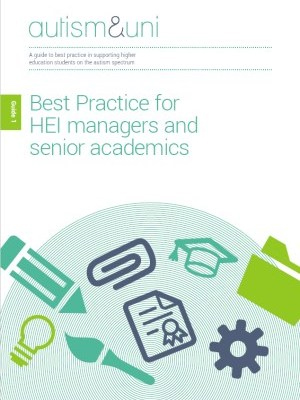 Autism&Uni is a European-funded research project that works with young people on the autism spectrum to help them navigate the transition from school into Higher Education (HE). They have developed a toolkit and best practice guides to highlight and promote these in order to improve the prospects and number of HE students on the autism spectrum.
Autism&Uni recognise that one size does not fit all, so we have created three guides aimed at specific groups of people who are involved in supporting autistic students at university, outside the family.
Autism&Uni has developed the guides with the help of autistic students, their parents, university tutors, school teachers, and autism support staff. Each guide focuses on:
'Takeaways' – insights, ideas and prompts for making a positive change and good practice to share with colleagues, and
'Calls to action' – direct action you can take immediately and without the help of others.
Autistic students who receive appropriate support in a timely manner thrive in higher education. Their skills and expertise are recognised and they have access to world class lectures and library facilities to support their special interests, and other opportunities that enable them to grow and develop. Following these guides will help you to help students make the most of their time studying and living at university.
GUIDE 1: For HEI managers and senior academics

GUIDE 2: For HE lecturers and tutors

GUIDE 3: For professionals supporting autistic students within or outside HE Institutions