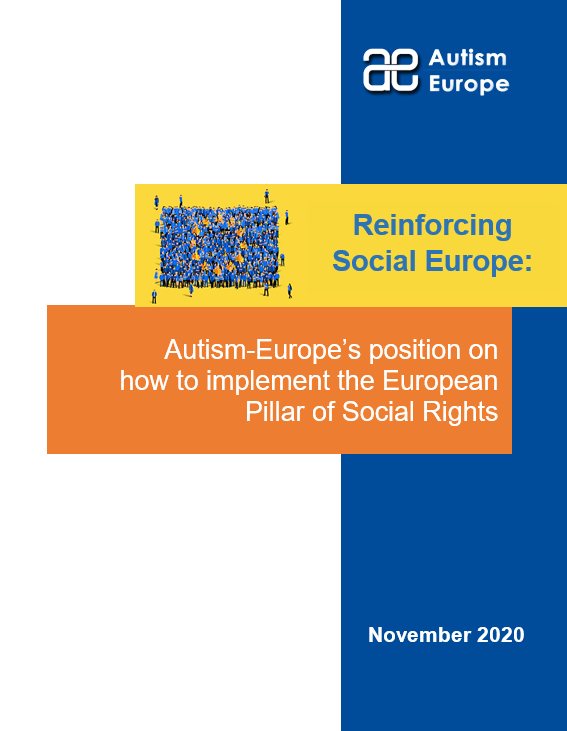 On November 30, 2020, Autism-Europe (AE) issued its response to the European Commission's consultation on the future action plan that is needed for the European Pillar of Social Rights' implementation, to be presented in early 2021).
The European Pillar of Social Rights is the EU social strategy to make sure that the transitions of climate-neutrality, digitalisation and demographic change, as well as the recovery from the COVID-19 pandemic, are socially fair and just. It builds upon 20 key principles.
AE welcomes the goals set out by the European Pillar of Social Rights and calls for a comprehensive and ambitious implementation plan of the "Pillar". The plan should translate into concrete targets and timelines and clearly outline how the 20 principles announced will be implemented at every level of governance to set minimum social rights standards. Disability policies based on the principles set forth in the United Nations Convention on the Rights of People with Disabilities, should be mainstreamed into the practical application of all the existing principles as well as the European Semester process. Disability organisations should be involved in its implementation and monitoring, and ensure that the Action Plan urgently addresses the coverage of persons with disabilities in the Social Scoreboard.
Addressing structural issues that have been exacerbated by the COVID-19 pandemic
On 14 January 2020, the European Commission presented a communication on building a "Strong Social Europe for Just Transition" that details the Action Plan on the Pillar. Autism-Europe welcomes this announcement.
Shortly after the communication was published, COVID-19 spread across Europe and lead to the implementation of extraordinary measures. The COVID-19 pandemic caused disruption and uncertainty in the lives of people with disabilities, especially autistic people, and their families. COVID-19 has also shown that social issues such as loneliness, social isolation, relative poverty, lack of access to essential services, education, employment and loss of opportunity affected the quality of life of millions. Therefore, AE welcomes the commitments made by European Commissioner for Equality Helena Dalli to incorporate the lessons learned from COVID-19 in the Action Plan for the "Pillar".