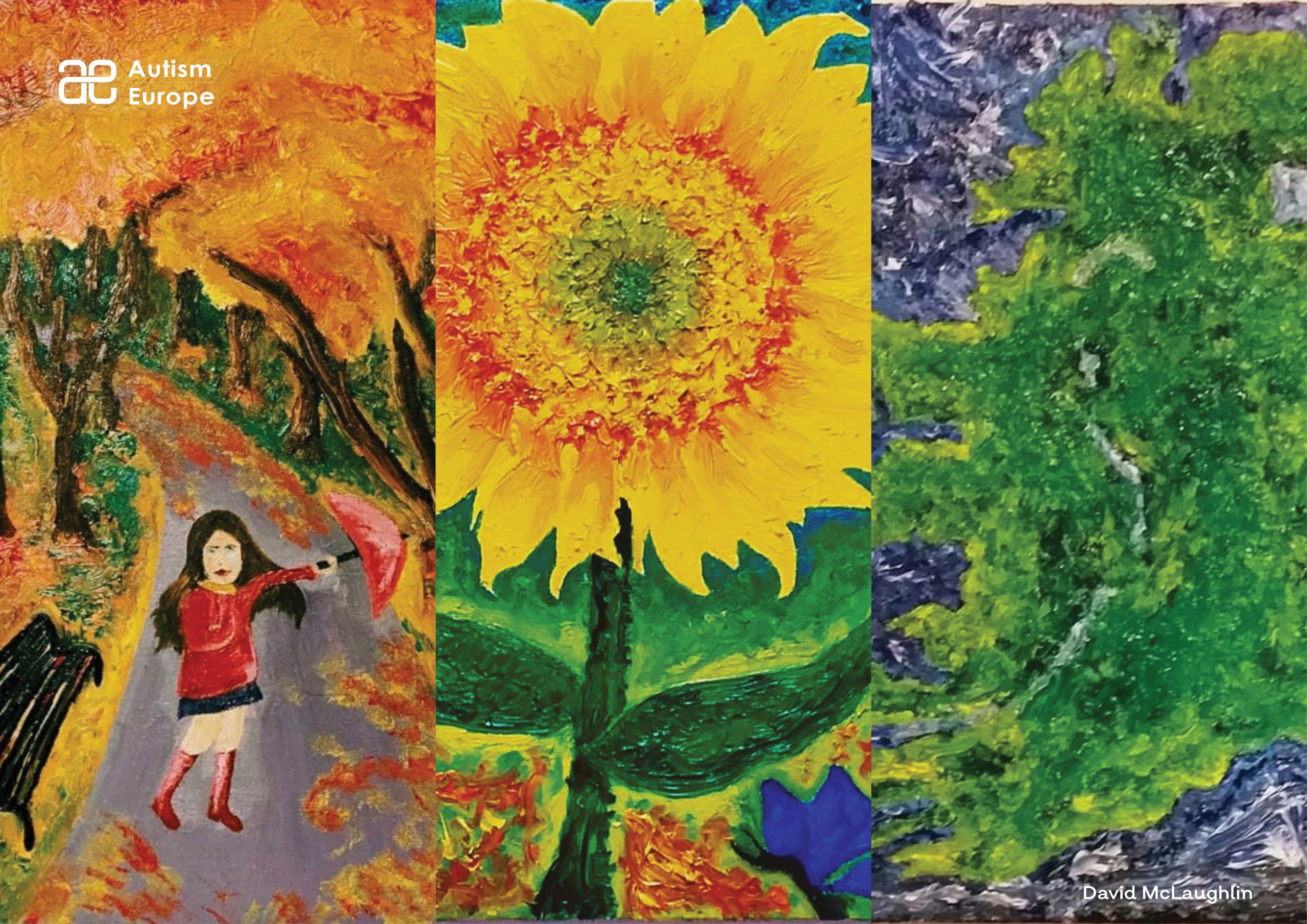 In 2022, Autism-Europe launched an art competition to give autistic people the chance to show through art what happiness means to them. We would like to thank all those who have participated in the competition and sent their artistic pieces! It's been difficult to make a choice amongst all the submissions. However, we are happy to announce the winner: David McLaughlin and his beautiful paintings, as well as two of the contenders who also submitted remarkable works.
Together with their artistic pieces, AE asked the participants to share an explanation of their art to better understand the feelings, thoughts and reflections they wished to convey. You can read below the empowering message that David shared regarding his paintings:
'Tournesol et Papillons'  to brighten up you day; we are born to bloom and burst with colour on our happy journey through life!
'Firery Kiss on an Autumn's Day' to remind us to love and accept love; we are born to develop positive relationships with one another for a happy journey through life!
'Ireland 🇮🇪: The Emerald Isle' to highlight our right to human rights and equality of opportunity; we are born with a desire for freedom and independence to choose our own happy journey through life!
Since AE received many excellent artistic pieces, we would like to also highlight the second and third positions. The second position goes to Ines Lobo, who shared that "the things I am most passionate about are traveling and nature, whether those are right here or across the globe". Her pictures convey a beautiful illustration of what happiness means to the artist and invite our mind to wander the world. You can see them here.  
Alina Kunhel receives a good third position with her inspiring painting. Alina connects her own personal story with her painting:
"The painting called "Broken" (Acrylic on Canvas) symbolizes the feel of being broken and torn between the urge of fitting in and the joy of being as unique as we are. Although you feel broken, there are several little, maybe hidden, stripes of hope". You can enjoy her painting here.
Thank you again to all the autistic artists who has participated in the art competition!