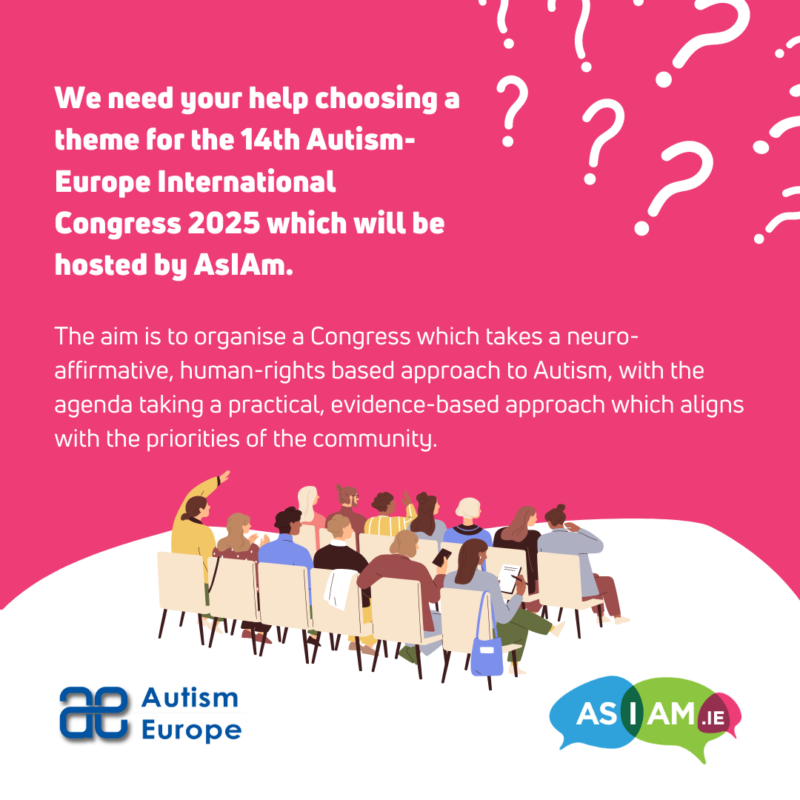 Every three years, Autism-Europe organises an International Congress in cooperation with a member organisation. The International Congresses will bring together a wide range of stakeholders in order to share knowledge about the latest research and best practices in the field of autism. The 14th Autism Europe Congress will be hosted by AsIAm, Ireland's National Autism Charity in Dublin between 5th-7th September 2025.
The Congress is led by an Organising Committee, made up of representatives of both Autism Europe and AsIAm. Each Congress has a theme, selected by the host organisation, and an Independent Scientific Committee sets the agenda of the Congress, including the selection of keynote speakers, workshops and poster presentations, based on this theme.
Past venues and themes of the Autism Europe Congress have included:
Oslo (2007): "A World of Possibilities"

Catania (2010): "A Future for Autism"

Budapest (2013): "New Dimensions for Autism"

Edinburgh (2016): "Happy, Healthy and Empowered"

Nice (2019): "A New Dynamic for Change and Inclusion"

Krakow (2022): "Happy Journey Through Life"
AsIAm, as the host organisation of the Congress, has committed to maximising the participation of Autistic adults and family members and to create an inclusive atmosphere which gives a sense of ownership to the broader Autistic community. The aim is to organise a Congress which takes a neuro-affirmative, human-rights based approach to Autism and with the agenda taking a practical, evidence-based approach which aligns with the priorities of the community. 
How to help us pick a theme for the conference?
The process will involve a number of steps and the deadline for contributions is 4 August 2023:
Step 1 (July): An open-call will take place, through Autism Europe and its member organisations, encouraging individuals to propose a Congress theme.

Step 2 (August): The Organising Committee of the Autism Europe Congress will shortlist 3 proposed themes.

Step 3 (September): A public vote will take place, through the Autism Europe and AsIAm social media channels, to identify the selected theme for the Congress.
Those who are submitting suggested themes are asked to take account of the following criteria:
All proposed themes must be submitted in the English language.

Proposed themes should not exceed one sentence.

A short rationale for why this theme should be selected may accompany the proposed theme but it should not exceed 250 words.

Proposals may take the written form or be submitted via a video or audio recording. In both instances, the length and word count set out above will apply

Those proposing a theme must be an Autistic adult, family member or a professional working in the field and should confirm this when making their submission.

Each individual should make no more than one proposal. Where duplicate proposals are made, neither proposal will be considered

All proposals should align with the values and ethos of Autism Europe and AsIAm. Those which do not align with the values or ethos of either organisation will not be considered.

Proposals should take account of the scientific nature of the Congress and be relevant to Autistic people, family members and professionals.

All proposals should be sent to info@autismcongress2025.org – no submissions sent through any other channel will be considered.