"I think it's positive to do something for others and DJ-ing has had an impact"
In May 2020, Autism-Europe had the opportunity to sit down for a Skype interview with Peter Harvey, a Brussels based DJ with autism. In the interview, DJ Peter Harvey spins answers to questions about his music career, the COVID-19 lockdown in Brussels and the challenges people with autism face across Europe. 
Autism-Europe: Could you please introduce yourself? What's your name and where are you from?
Pierre Harvey: My DJ name is "Pierre Harvey" in French, which is "Peter Harvey" in English of course. I come from Belgium, from Brussels. I'm a "Bruxellois".
AE: What were your feelings about the lockdown that started in March 2020 and is slowly ending?
PH: I found it a bit disturbing at first. To be honest, it's not an easy thing to deal with. The impact of the lockdown started with restrictions such as not seeing friends and being stuck at home every night. I understand that all these things are done for health reasons and now I'm a bit used to the new "normal", like being alone and not going out. But, I really try to keep my hands busy and I try to communicate with others via my devices, for example with my smartphone to talk to my friends. Simple things like saying "hello" to strangers on the street who are in this new social and friendly state of mind due to the crisis, it's actually a lot of fun!
AE: Those deemed as 'essential' workers were not locked down, but for everyone else, we could only go to the supermarket or the pharmacy, etc. Yet, you were doing your DJ set on your balcony every night, which the neighbours seemed to enjoy… why did you start doing this?
PH: This idea came from Italy, applauding all the medical staff who were working hard to thank them for everything they do by applauding and playing music every night at 8pm. The neighbours across the street had started to put on music very slowly. There was a moment when I said to myself, "I'm going to install my sound system so that everyone will hear the music better". That's what I did. I put all my equipment on my balcony. You should know that I'm primarily a drummer, because you can see the drums behind me. It's only because of the confinement that I started to do "DJ-ing". I have a real interest in music, that's why I have this equipment. I'm in a band with friends and we're called "Les Smileys". The band has four members, we're relatively new, and a friend of mine in the band asked me to make an announcement about us. Actually, we are looking for a guitarist to join the band.
AE: Did you get any feedback from neighbours who listened to your DJ-set during the lock down?
PH: Yes, I've had feedback from my neighbours in the form of little notes slipped into my letterbox with thank you messages and other positive messages. What they appreciate most is my enthusiasm. We created a 'WhatsApp' group for the neighbours which I named "Lannoy Land", Lannoy being the name of my street. I did the DJ-set non-stop every day from 7:45pm to 8:15pm during the 2 months of confinement I really like it even if it's quite tiring. From 11th May, I proposed to do it once a week, so I have time to prepare a better set for the band and on the WhatsApp group, the neighbours chose Friday night as the night for the performance from now on. There are also members of the public that come to listen in the street and especially to dance because I always try to put lively music on.
AE: Are there positive aspects to confinement?
PH: Well, I think it's positive to do something for others and DJ-ing has had an impact. Now, all the neighbours are talking to each other when we don't usually know each other, we never really spoke to each other and yet, all of a sudden, we're talking to each other.
"One of my neighbours now regularly says 'thank you' to me […] I think it's very positive to get to know the people on your street to form a sense of solidarity."
PH: I run the WhatsApp group where we had a neighbour's birthday request. That day, I played the song "happy birthday!" and another neighbour baked a birthday cake and dropped it off at the neighbour's birthday party.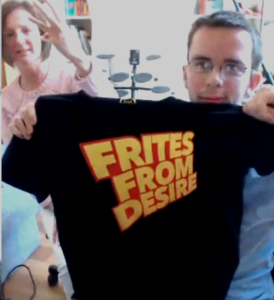 Pierre shows an ironic t-shirt he received as a gift from a neighbour, which he wears when he DJ-sets on the balcony with the pun "Fries from Desire". This is a reference to the name of the 1990's dance/house song "Freed from Desire" by the artist "Gala", but of course it refers to the "fries", a symbol of Brussels and the Belgian national identity. This is the song that DJ Peter Harvey always plays last and which is accompanied by a choreography invented on the balconies.
AE: What have been the most difficult aspects of containment for you?
PH: First of all, I felt I was on my own, but I wanted to show that I could be sociable and give joy and good humour to others. During the lockdown, I realized how important it is to have friends. Normally, we don't think like that because we're too preoccupied with other things. However, it is essential to have friends, because some people don't have friends and even if they do, they are not necessarily their "real" friends. "Real" friends show their true colours in difficult times.
AE: You have been DJ-ing for many years, how did you start DJ-ing?
PH: I never DJ-ed before confinement, I only thought about DJ-ing when confinement started. I completely improvised. I was inspired by videos seen on the internet and I also do sound effects, inspired by beatbox.
AE: Who is your role model for DJ-ing?
PH: I would say that there are a number of amazing DJs out there. These are DJs like David Guetta, AVICII, and there's another DJ from the UK called "AFISHAL" who has a cool set using drumsticks on an electronic drum kit that produces a variety of sounds.
AE: What do you think are your strengths as a DJ?
PH: I am able to improvise, I have a good sense of humour and a lot of energy. There's a lot of emotion in the music I choose. I also have a good sense of rhythm, which I exploit by playing drums and percussion. I also like to dance a lot and I do it whenever I can. After my DJ set, we sometimes had musicians come and play or sing in the street. I used to stay on the balcony with the musicians below me. I would go down the cables and the musicians would plug in their instruments. We had a real singer and I enjoyed improvising with her. When the singer started singing and playing the guitar, I had the idea of matching the sound with my 'cajòn' (percussion). I accompanied the singer with this instrument, and it went well with the rhythm. It sounded good, people really enjoyed it and it was spontaneous. I would also say that my enthusiasm is a strength because the neighbours thank me for my enthusiasm, I always put cheerful music to dance to.
AE: Would playing in the big international summer festivals be something you would work on?
PH: I'm not DJing for that, but to share and connect people with each other, which is the goal of a confined DJ in my opinion. I don't have any serious DJ equipment, but I do have an amp, two speakers and a microphone, basic dance tracks and that's it. It's a bit annoying to use but I can still DJ with this equipment. I think my scout leader training also taught me how to improvise and how to talk to a band.
AE: When you were a student at school, did you play an instrument or sing?
PH: I started rhythm lessons when I was 5 years old and then I chose to learn the drums and then the 'djembe'. I have 2 drums at home, one acoustic and one electric.
AE: There are a lot of autistic musicians and artists, what advice would you like to give to autistic people who want to do something like that and don't know how to do it?
PH: There are now a number of informative videos available online that allow you to learn an instrument in the comfort of your own home. I can give advice, I'm here for that too because I've developed a knowledge of music. I know a lot of percussion instruments (drums, djembe, cajòn, balafon, dundun).
AE: Access to healthcare, housing, education and appropriate employment are real challenges for people with autism in general across European societies. Which of these areas requires the most attention in your opinion?
PH: Housing should receive more attention because everyone needs shelter, you can't do much without a roof over your head. In addition, special attention should be given to paid employment, especially working close to home, whether you are autistic or not, it is vital for everyone in society. I know that people with autism have increased abilities in specific areas, which could be useful in finding a job. Personally, I like computers a lot, I am taking courses in computer maintenance and I would like to find a job in this field. However, I think that the world of work is more difficult to integrate because there is a lot of interest in autistic children but not much interest in adults. There is not a lot of support for adults with autism. My mother works as a job coach for 'Passwerk', a software testing company that only hires people with autism. She can explain the importance of employment for autistic adults like me.
Special thanks to Pierre (his mother) who conducted this online interview during the May 2020 confinement.