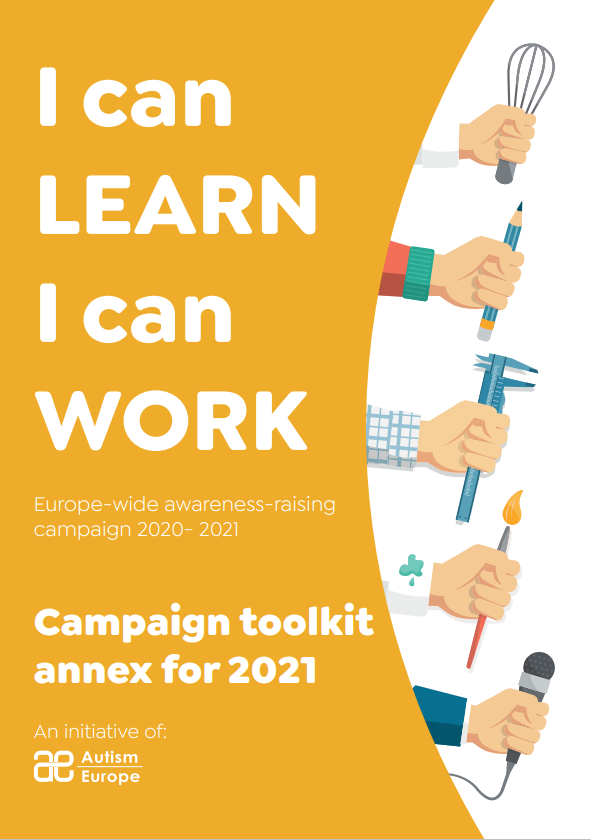 Autism-Europe has created a campaign toolkit annex for 2021 which outlines the goals of the second stage of the "I can LEARN. I can WORK" campaign.
The document summarizes the first stage of the campaign in 2020, provides updates to the current context of the campaign and highlights the campaign's objectives for 2021. 
This is an annex to the campaign toolkit released in 2020
The toolkit explains the idea behind the theme and outlines in detail how and when you can support the campaign in whichever way you prefer. The toolkit brings together recommendations on how you too make people more aware of diversity and inclusion, and build momentum in pushing for a more inclusive society, notably in relation to education and employment.
New campaign objectives in 2021:
To raise awareness about the COVID-19 related challenges

autistic people are currently facing.

To place emphasis on the right to learn and the right to work

(even during the pandemic and its containment measures).

To address EU policy areas and use them as tools

to support the goals of the campaign.
The toolkit annex also includes materials, strategies and recommendations on how you can engage with the campaign in 2021.