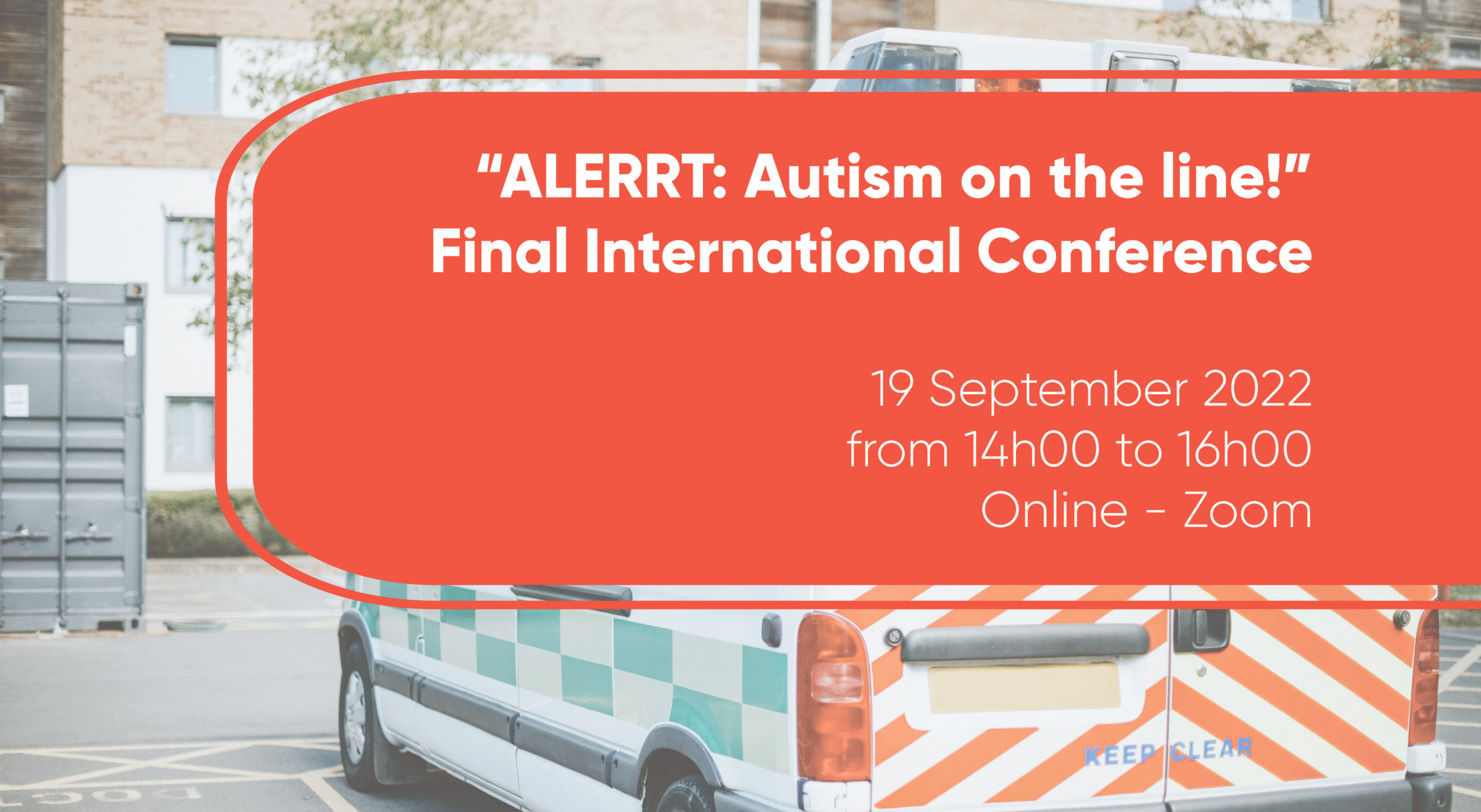 On 19 September 2022, the "ALERRT: Autism on the line!" final international conference took place online. The ALERRT project partners from Spain, Italy, Cyprus, Portugal and Autism-Europe presented the pilot training curriculum designed for first responders to help them interact and communicate effectively with people on the autism spectrum in cases of emergencies, including some VR tools. The event was attend by representatives from the autism community from across Europe and beyond, with a view to ensure a wide impact of the project results and mutual learning.
Member of European Parliament Radka Maxová from Czechia opened the conference. In her live intervention, she highlighted the high likelihood of first responders encountering autistic people, pointing out that "First responders are seven times more likely to come in contact with an autistic person but evidence shows that they are not adequately trained to recognize and respond to them in appropriate ways". She welcomed the work conducted by ALERRT to address this gap.
Begüm Cakmak from the vocational education and training (VET) provider STANDO (Cyprus) provided an overview of the Erasmus+ project "ALERRT: Autism on the line!". She focused on the issues autistic people face in cases of emergencies as surveyed through project focus groups and a questionnaire.
Ruxandra Stanica, project coordinator from the health care and education provider GESEME (Spain), explained the online modules designed by the consortium. The learning modules are dedicated to the following topics : understanding autism, social interaction and communication in autistic people, sensory processing and perception in  autistic people,  anxiety and addressing behaviors that challenge and finally how first responders should support autistic people in cases of emergencies.
Stefania Pavel from EuDA (Czechia) introduced the e-learning platform to be used by first responders to  be trained in responding to the needs of autistic people as well as  by VET trainers educating first responders. The platform contains the online modules, a VET trainer curriculum and additional (learning) material such as safety kits and easy-to-understand explainers.
Leonor Pereira from the higher education organization COFAC at the University of Lusófona (Portugal) presented the virtual reality (VR) training scenarios that have been developed to illustrate specific scenarios involving autistic people that first responders can encounter, including a car accident and a house fire.
Salvatore Martino from the VET provider CEIPES (Italy) shared the feedback received after delivering the first pilot trainings in Palermo (Italy) in May 2022 and Larnaca (Cyprus) in June 2022. The training participants, which included police officers, firefighters, educators and health professionals recruited by CEIPES (in Italy), GESEME (in Spain), EDA (in Czechia) and STANDO (in Cyprus), gave very positive feedback.
In order to share experience and foster mutual learning, Kirstine Peterson from Autism Denmark, Autism-Europe's Danish member association, then introduced the Inclusive Emergency project – an Erasmus+ project focusing on how to interact with people with various disabilities in cases of emergencies. The project consortium included our Danish member association, several first responders' organisations and a higher education institution from Denmark, Finland, Slovenia and Spain. Kirstine Peterson also shared videos of live-taped rescue simulations with first responders.
Member of European Parliament Chiara Gemma (Italy) closed the conference.  In her intervention, she highlighted the added value of projects like ALERRT that concretely help to train a range of professionals including policemen and firefighters and equip them with adequate strategies to address the needs of autistic people. She welcomed this kind of training programme as it addresses pressing needs as evidenced by vast survey she conducted in Italy. She also welcomed the innovative learning format of the training course and expressed her willingness to promote the availability of such a training in Italy.