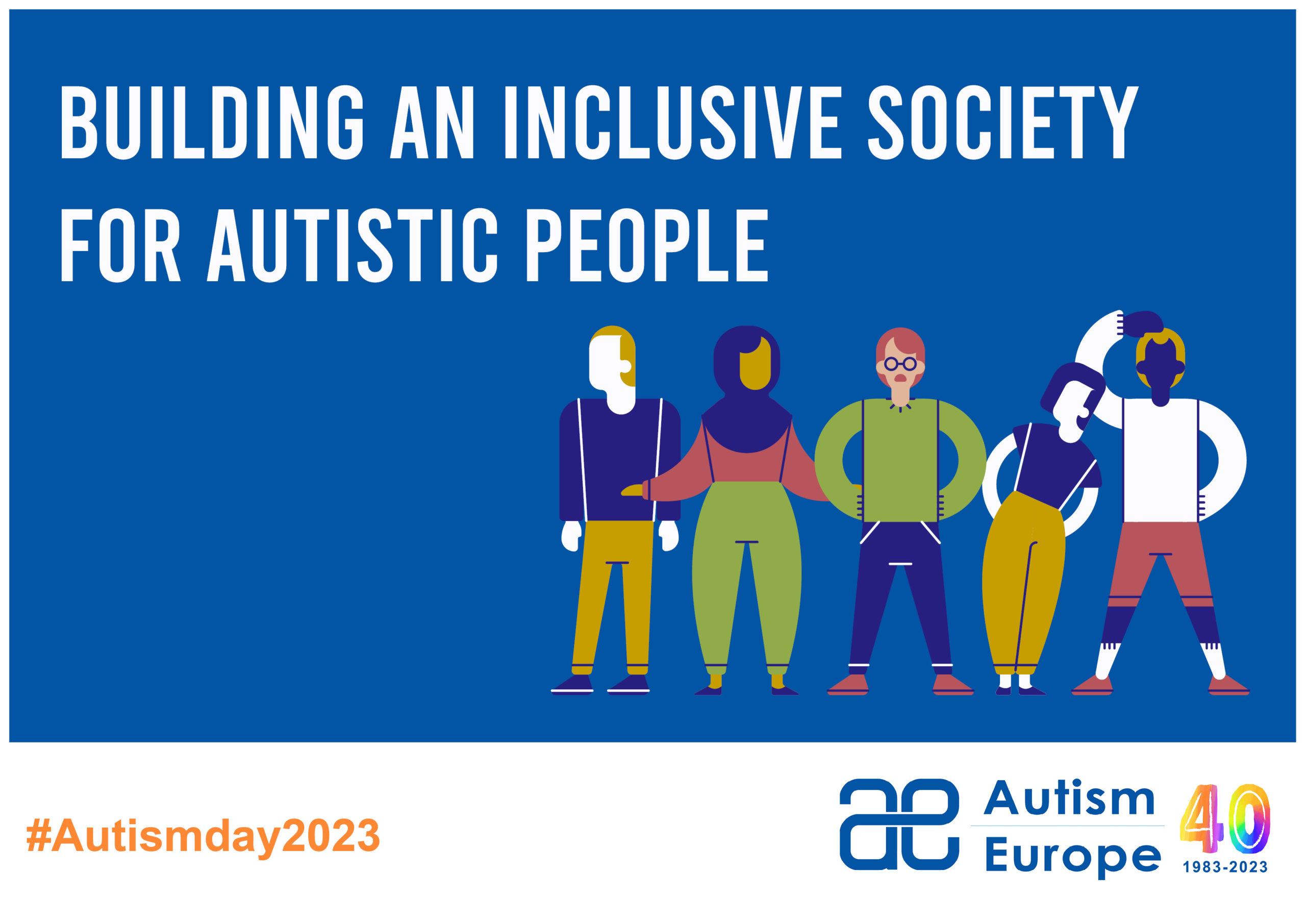 In 2023, Autism-Europe is conducting a Europe-wide awareness raising campaign with its members dedicated to "Building an inclusive society for autistic people"
As always, Autism-Europe (AE) will be celebrating World Autism Awareness Day on 2 April and throughout the month of April. 2023 also marks a special occasion, as AE celebrates its 40th anniversary.
Thus, under the motto "Building an inclusive society for autistic people", this year's campaign will be an opportunity to reflect on the advances made so far for the autism community and the work that remains to improve the lives of autistic people.
Manifesto
AE drafted a manifesto to highlight the priorities of this WAAD 2023 campaign to address the autistic community's needs. The manifesto will be available in several languages to be disseminated to all key stakeholders.
AE launches a call on European, national and regional policymakers and other stakeholders to ensure the full enjoyment of the rights and needs of autistic people in Europe, according to the United Nations Convention on the Rights of Persons with Disabilities (UNCRPD). The UNCRPD has been ratified by 45 out of the 46 member countries of the Council of Europe (CoE), including by all EU member states and by the European Union itself in 2010.
To implement the UNCRPD at EU level, the European Commission launched in March 2021 its second Strategy for the Rights of Persons with Disabilities, which will run until 2030. Autistic people's needs should be adequately addressed when implementing it in all areas, both at EU and Member States levels.   
Upon request, the manifesto could be translated in other languages. Please find in this folder the manifesto translations available at the moment.
Campaign toolkit
We prepared a document detailing aims and strategies of this year's WAAD campaign, which will be carried out through different communication means and activities.
Go through this toolkit to learn how you can engage in our #AutismDay2023 campaign, and download useful communication material!
Please remember to use the hashtag #AutismDay2023 on social media!
Translations of the policy messages visuals contained in the toolkit are now available in Estonian, Croatian, Italian, Macedonian, Norwegian, Portuguese and Turkish in this folder. If you wish to have them adapted in other languages, please consult the toolkit.
Campaign activities
In this context, we invite all our members and the autism community to join the campaign for #AutismDay2023 and take part in its various activities.
Photo competition: AE launched this contest to illustrate the perspectives of autistic people and their lived experiences, as well as how society can be more inclusive. The deadline to participate was 27th February 2023 and each participant could submit up to 5 original photos (more information here). A selection of pictures is going to be displayed in a 1-week exhibition at the European Parliament in Brussels at the end of March 2023 – more information and registration for the opening event here.


Video-testimonies: AE wants to amplify the voice of our members and partners by inviting them to share their experiences, as well as their vision to continue building a more autism-friendly society. We would particularly like to highlight the day-to-day experiences of autistic people and their family members/supporters. We have prepared a guidelines document available in French and English, where you will find suggested questions and technical tips to record your video-testimonies. The deadline to contribute with your video is 07 April  2023.


Events at the European Parliament: to mark World Autism Awareness Day, AE is co-organising a conference with MEP Rosa Estarás (EPP, Spain) at the European Parliament in Brussels on 30 March 2023 (more information and registration here). Few days earlier, on 28 March, AE is organising an opening event for the photo exhibition lasting from 27 to 31 March 2023. 
AE's 40th anniversary logo
40 years ago, AE was founded to promote the rights of autistic people and their families across Europe. Even though much remains to be done, we have come a long way together! To celebrate this milestone, we invite our members to use our anniversary logo.
You can find and download the different versions in this folder. Translations of the visuals will be available upon request.
We look forward to seeing you all joining this edition of World Autism Awareness Day with us through the different activities.

In case you have any questions, please feel free to contact Carmen Clemente, Communications and Campaigns Manager, at communication@autismeurope.org